Crisp, white bed linen with a high thread count denotes superiority and luxury to your guests. But is it that simple?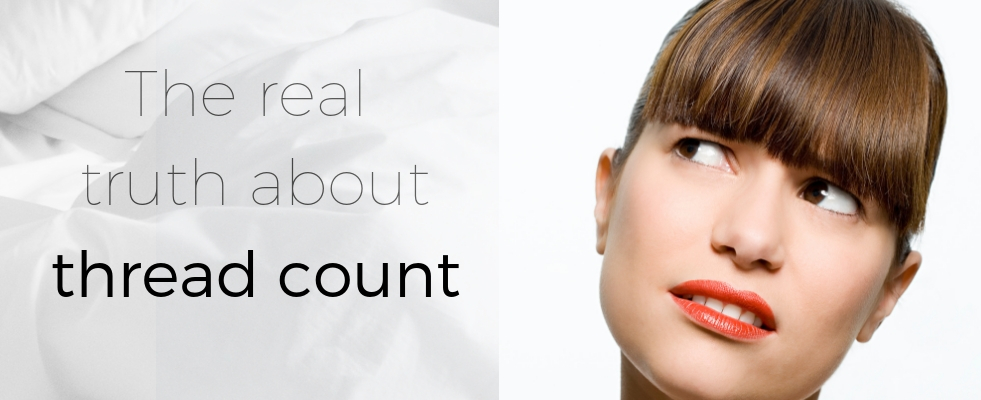 Relating to the density of the threads in one square inch, higher thread count products generally mean smoother, softer linens. But in reality, they can also be the work of deceptive practices for the unwary buyer.
People are often deceived into thinking thread count is the most important thing, but yarn quality, finishing process, fabric construction and weave are all important considerations that affect the durability, quality and handle of the linen.
Misleading techniques to claim higher thread counts include twisting yarns together. A two-fold yarn is woven as one, but counted as two, to artificially increase the number of threads per inch. This can disguise poorer quality yarns. Another practice is to add fillings to increase the weight of poorer quality fabric.
The finishing process is designed to display the linen at its best. Therefore, processes to remove natural impurities, de-sizing and bleaching, must be carefully controlled so they do not result in any degradation and damage to the integrity of the cotton fibres, reducing strength and longevity.
Likewise, mercerisation transforms the cotton fibres into a smoother, more cylindrical structure, giving the fabric extra sheen and lustre. However, if not handled correctly, this too can result in irreparable damage.
Of course Egyptian cotton is the best…
Another commonly held myth in the textile world is that cotton products featuring the 'Made with Egyptian Cotton' label is sure to be the most luxurious. True Egyptian cotton can indeed be of a superb quality, thanks to long-staple fibres, but must originate from the Nile Delta region and meet certain criteria to qualify. What's more, Egypt is not the only place in the world to grow long-staple cotton fibres. America, India and Pakistan also supply this sought-after natural resource.
Demand for Egyptian cotton is ever increasing as the perception persists that it is the best. But with a dwindling supply, meaning that less than 1% of the world's cotton produced last year can be traced to Egypt (according to the US Department of Agriculture), this has led to unethical practices of blending Egyptian cotton with other fibres, or even making false claims entirely.
Recent DNA testing by the Cotton Egypt Association revealed 90% of the linen products that stated 'Made in Egypt' didn't contain any Egyptian cotton. The implications were so great that a string of top American brands, including Walmart and Target, launched investigations and offered refunds.
There simply hasn't been enough production for all those claiming to use Egyptian cotton this to be the case. And while the country has started to receive a renewed resurgence in the crop, demand still outweighs supply. This is why ethical companies such as ours are looking to other sources of quality cotton to reliably produce fantastic linen. What's more, our carefully crafted weaving and finishing techniques ensure that clients can have soft, smooth bed linen without the hefty price tag.
So how can you avoid falling into to the traps and what should you be looking for?
"It's all about superb supplier relationships, says Paul White. "All our cotton at Tonrose is carefully selected for its strength and softness. But you have to be able to trust your suppliers implicitly as they are selecting the yarn and making the products."
At Tonrose, we make a point of not simply shopping around for mills with the cheapest production costs, but instead have long-standing relationships, some exceeding 25 years, and ensure regular contact.
As well as performing regular mill visits to see the quality for ourselves, our partner mills are required to conduct several quality checks throughout the manufacturing process, including chemical testing and check for colour or weaving faults with light boxes.
"We also perform quality checks on arrival at the warehouse. All these extra steps help us to deliver consistently reliable high-quality linen that keeps both guests and housekeepers satisfied," says Paul.
Tonrose offer a range of hotel grade linens that fit a variety of brand propositions and budgets, while being engineered to withstand the demanding life in hospitality.
Ultima 130tc 70/30 cotton rich linen is our most popular and is ideal for smaller budgets. In the mid-range our Ultima Percale 80/20 cotton rich range has a luxurious 200 thread count, while our superior 200tc Supreme Percale bed linen uses 100% premium mercerised cotton for a smoother, more comfortable experience. Of course, the finest linen is only as good as the way it is laundered.
Excessive wash or ironing temperatures, as well as over drying can all affect the integrity of the cotton and diminish the life span of the product.
"Choosing the right laundry is key and while it may be tempting to simply go for the cheapest, as with many things, it's often a case of you get what you pay for," warns Paul.
"Likewise, the common practice of filling the duvet covers with dirty laundry and pulling it around leads to avoidable fabric damage and abrasion," he says.
"If you choose the right quality from the beginning, and treat it with the care it deserves, you will find your linens give a long-lasting performance."
> See the full range: Duvet covers, sheets & pillowcases
This article was featured in Housekeeping Today