In February, Paul White travelled to Pakistan to visit the fabric-producing areas of Lahore, Karachi and Faisalabad.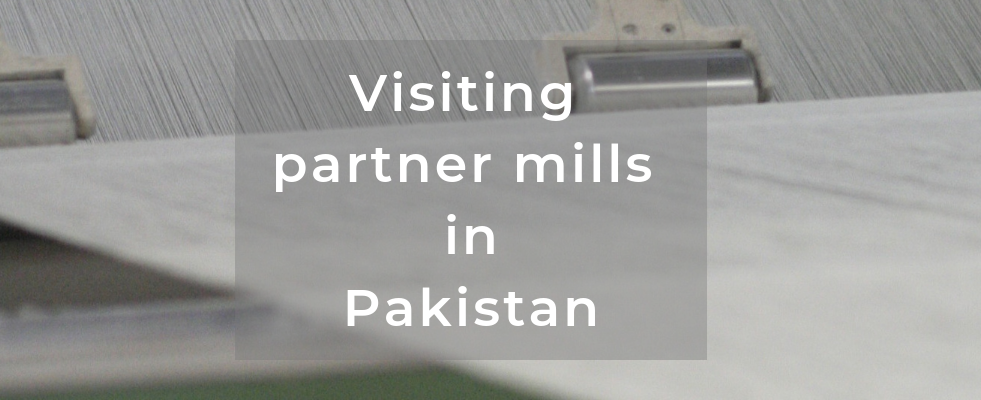 We've been working with all of our suppliers for many years, with some relationships lasting more than 20 years. Through regular visits, we can ensure that our strict quality and ethical standards are being adhered to, as well as making sure we are able to remain competitive for new and existing customers.
Here,  Paul give us his thoughts on the trip:
Ensuring quality standards
Faisalabad and Lahore are the heart of textile production in Pakistan. We've worked with our mills here for over 20 years. Our mission for this visit was to check on the production and conditions in our current mills, as well as visit some new potential mills.
Choosing a new mill is not something we take on lightly. We never just buy speculatively off price, as there is often some compromise to be made (whether its quality, service or ethics). It takes multiple visits, production samples and checks before we let them into our trusted supplier network.
We've always made a point of visiting the mills for ourselves. It's only by regular visits to witness the production processes, check the quality, feel the fabric and build relationships that we can offer the best quality products and ensure consistent supply. It is through our strong relationships with these family-run mills that we are also able to negotiate competitive pricing, without fear of any corners being cut.
A renewed perspective

What always strikes me is the number of processes the cotton goes through before it is ready to be woven into a sheet, duvet cover or whatever else it is to become.
First, the cotton bolls that have been collected from different regions and in some cases different countries, are delivered to the mills. From here they are sorted and cleaned in what is known as the 'ginning process'. Any man-made fibres are treated in a similar way, to get them as clean and smooth as possible. Both are then delivered to the spinners to go through yet more processes to become yarn, ready for weaving.
Modern looms can weave at impressive speeds, interlinking the warp (lengthwise yarns) and the weft (crosswise yarns).
Once complete, the 'grey goods' or 'greige fabric' needs to for bleaching (and other processes) known as finishing, It is then ready to be cut, stitched, hemmed and labelled, ready for despatch. By seeing it all first-hand, it renews your respect for the products all over again, not least the people who make them.
Product development

We work very closely with the mills in all matters. Multiple visits and months of development go into any new product development, such as our innovative One washTM technology. It underwent rigorous testing before being ready to take to market and our customers.
One washTM has been developed for laundries to remove any residual sizing in just a single laundry cycle compared to the (multiple washes required buy other providers), preventing 'cracked-ice creasing'. This saves time and money, as well as reducing their environmental impact.
It was great to see our One washTM bed linen in production; it was the first opportunity for me to do so. There's quite a buzz in the industry over there around this technology as it's so innovative.
Ethical and sustainable production
We're also passionate about ethics. We are dealing with international markets – with different standards, rules and regulations – so ensuring our linens are ethically produced and sustainably sourced is something high on the agenda of every visit.
At Tonrose, we have a zero-tolerance policy to child labour and support the welfare of the workers. Many of our partner mills have a number of auditable certification standards, outlawing child labour, promoting workers' rights.
Tonrose is aligned to the Ethical Trading Initiative (ETI) – a leading alliance promoting the respect for workers' rights around the world.
We witnessed this for ourselves, with many female workers and excellent health and safety precautions around the mill. Something I've particularly noticed, since I started visiting back in 2014, is that the standard of accommodation, catering and prayer facilities have all significantly improved.

We always like to see that the mills are investing back into their businesses. New, more efficient machinery is helping to cut down on the environmental impact of producing fabrics. Also, staff are trained in other areas of the business to ensure service is seamless regardless of any absences.

We also actively support The Citizen Foundation (TCF), in association with one of our Pakistan mills – a not-for-profit organisation which aims to make the education available to all, regardless of sex, class or background.
I always love to visit our mills first-hand, it helps to develop my skills and knowledge every time. It reminds me of the amount of people, processes and time involved in producing hotel grade linens. It reassures me that the Tonrose partnership with them is strong and ever-growing.
Having worked in the many different stages of fabric production myself for many years, I always feel at home when visiting the mills. The sights, the smells, the sounds are all so familiar to me. I look forward to our next visit in the next few months.
Until next time…